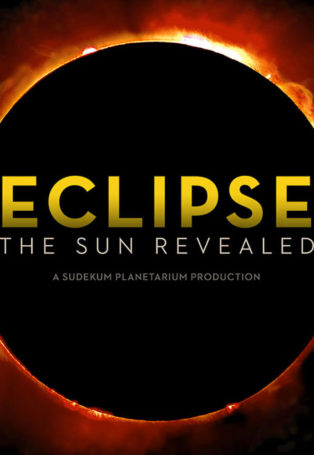 Download High Resolution Poster
Eclipse: The Sun Revealed
This fulldome show covers the historical, cultural, and scientific views of solar eclipses, and gets audiences ready for the Great American Eclipse of 2024.
Release date:
November 2016
Directed by:
Description
The Great American Eclipse is coming… and with it comes the next addition to the Sudekum Planetarium's robust catalog of shows: ECLIPSE: The Sun Revealed.
Don't miss sharing this once-in-a-lifetime experience with your visitors! This all-new fulldome production features exciting visuals that explore…
the historical and cultural views of eclipses illustrated in culturally inspired styles
the geometry that gives us lunar, partial, annular, and (of course) total solar eclipses
a visualization of what can be seen from within the shadow of a total solar eclipse
scientific discoveries generated or supported by total solar eclipses
how to safely view an eclipse
a first-hand account of one person's experience during a total solar eclipse
This show includes two versions – one highlighting the April 8, 2024 path, and a generic module for use any time, any place.
A fulldome show for planetariums and digital dome theatres.
Distributors
You can get this show from:
Spitz Creative Media
Sudekum Planetarium
Show details
Shorter version runtime
(if any)
:
not available
Full version runtime:
27 minutes
Suitable for:
General audience
License:
Traditional license
Resource & materials:
Poster
Technical specifications
Show orientation:
Unidirectional
Production technologies:
CG
Credits
Script editor
Screened at

1

dome theaters and counting...
Reviews
No reviews available.
Be the first to review this show!