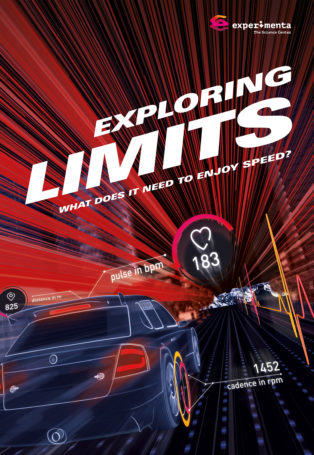 Download High Resolution Poster
Exploring Limits
Speed has always been a fascinating and intoxicating rush. What does it really feel like to reach high speed? How difficult is it to control speed?
Description
The actor Steve Mc Queen once said, "Racing is life. Anything before or after is just waiting."
What is it that makes speed such an adrenaline rush?? Why are people so exhilarated by racing through time and space? What are the necessary techniques behind racing? Why does life sometimes feel like a high-speed race and what's the best way to deal with it? What happens to our bodies when we set them in motion?
Sit in the passenger seat next to German Rally Champion, Matthias Kahle as he manoeuvres the course, and explore what optimal speed feels like and how to slow back down.
Take a seat in the Science Dome, a high tech racing machine-Experimenta's new 360° vehicle-and enjoy a beautifully spectacular technical show.
Get your pulse racing and then learn how to shift it back down a gear. For co-pilots 12 years and older.
A fulldome show for planetariums and digital dome theatres.
Distributors
You can get this show from:
Show details
Shorter version runtime
(if any)
:
not available
Full version runtime:
30 minutes
Suitable for:
General audience
Target audience:
14 - 18, Adults
License:
Traditional license
Resource & materials:
Poster
Technical specifications
Show orientation:
Unidirectional
Production technologies:
CG, Green screen, Live action, Time-lapse photography
Audio format:
5.1, 3d audio
Languages:
English, German
Credits
Soundesign / sound editing / mixing
3d sound mix
Screened at

1

dome theaters and counting...