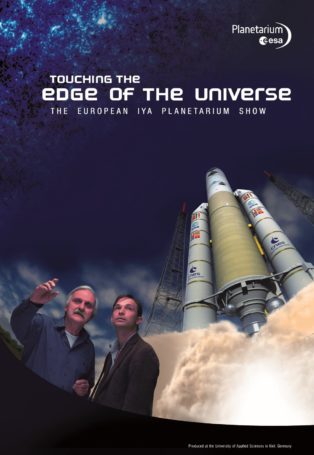 Download High Resolution Poster
Touching the Edge of the Universe
Touching the Edge of the Universe is a 45-min show for planetariums and digital dome theatres. Info, trailer & full preview available.
Description
Four hundred years after Galileo's revolutionary discoveries, two scientific satellites are launched into the Universe.
These space telescopes unveil events that our eyes cannot see. They observe the birth of stars and planets and look back to the very beginning of time.
Created using the latest technology for full dome and analogue planetariums; shot on location at the European Space Agency's Main Control Room in Darmstadt, Germany; featuring highly sophisticated 4K animated graphics and detailed scenes never before seen on a planetarium dome – this stunning planetarium show sets a new benchmark for cutting-edge edu-tainment.
Since its premiere in May 2009, more than two hundred thousand viewers world-wide have enjoyed Touching the Edge of the Universe. Now the show is available in multiple languages and in two different lengths, 45 and 25 minutes. Bring the show to your planetarium today!
Distributors
You can get this show from:
Fulldome Film Society
Audio Visual Imagineering
Fulldome.pro
Fulldome.pro
ZEISS
Show details
Shorter version runtime
(if any)
:
26 minutes
Full version runtime:
45 minutes
Suitable for:
General audience
Target audience:
14 - 18, Adults
License:
Traditional license, Pay per view
Resource & materials:
Guide for educators, Poster, Source files
Technical specifications
Video format:
Fulldome, Flat screen
Show orientation:
Panoramic
Production technologies:
CG, Green screen, Live action
Audio format:
Stereo, 5.1
Languages:
English, German, Arabic, Brazilian, Dutch, French, Korean, Norvegian, Polish, Russian, Spanish, Thai
Credits
Director
Writer
Screened at

0

dome theaters and counting...
Reviews
No reviews available.
Be the first to review this show!