New Features on FDDB v4.2
The Fulldome Database (FDDB), a web resource that gathers together information for planetariums and fulldome professionals, has been updated with new features to add even more ways for you to access data from the fulldome industry.
Today we are releasing FDDB v4.2, the second update to the new Fulldome Database which was launched back in July during the IPS Conference in Toulouse. This is an update that follows FDDB v4.1, a significant release that introduced the new Domes section. Here is what's new.
New Search Engine
FDDB's search engine is now more powerful and useful. Users can restrict their searches to specific areas and apply better filters.

New Compact Layout
We designed a new compact list-view to make it easier to browse through the entries in the Fulldome Database: Shows, Organizations, Domes and Events can now be shown in an easy to scroll list.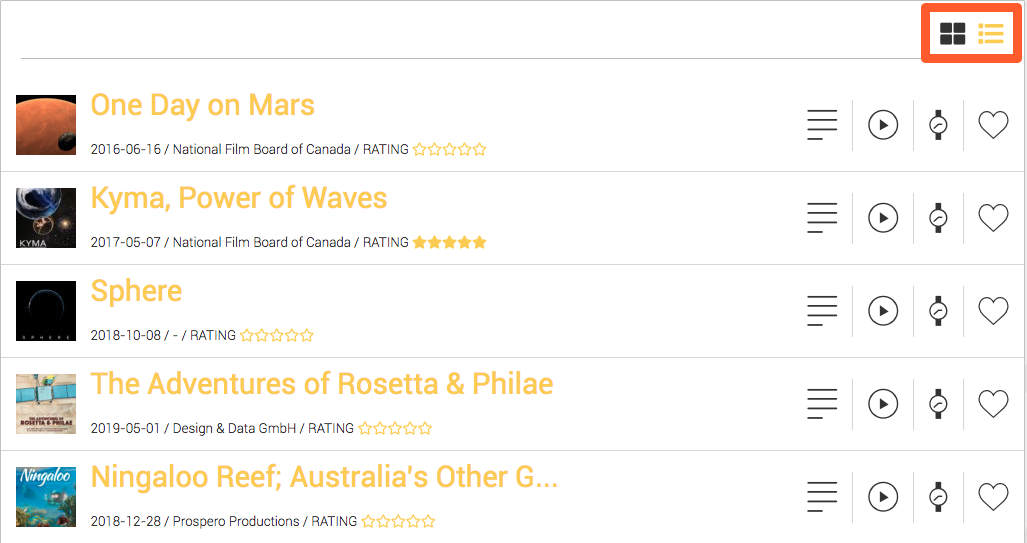 New Sort Options
Sorting options are now available for both fulldome shows and fulldome venues, to help better organize the available data in the way you need. Users can now sort shows by release date, rating, number of awards, as well as sort venues by dome size and number of seats. These sorting options will work either before or after having applied any specific filter.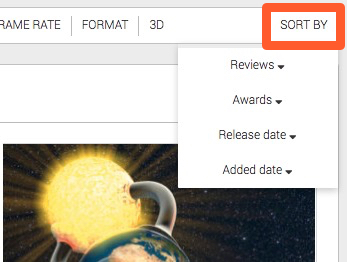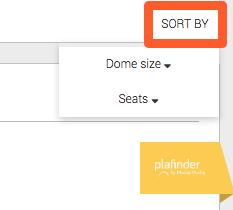 Dome Screenings
Users can now either tag shows on dome venues or tag dome venues on shows' details pages.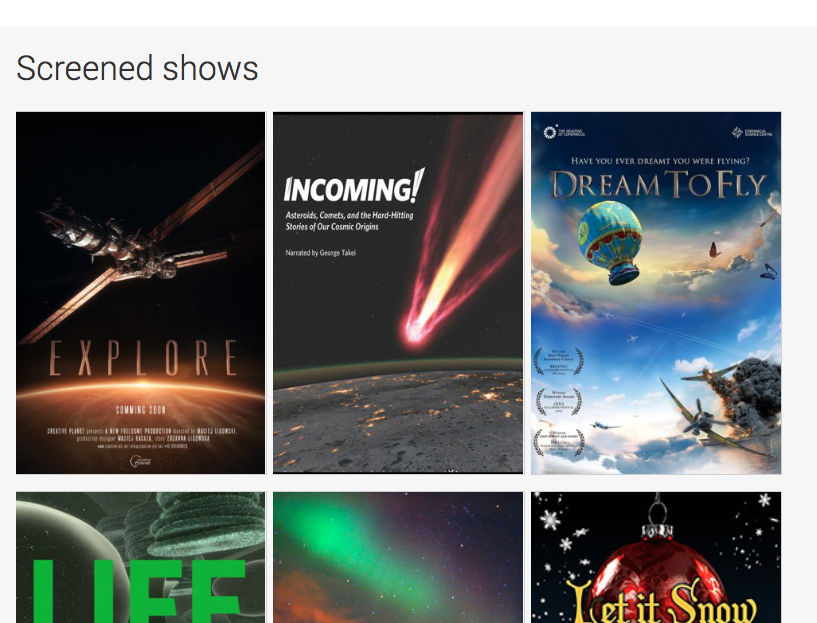 New Tag Functionalities
Similar to the Credits section that can be found in any fulldome show's detail page, we have now added a functionality that allows FDDB users to connect their profile to fulldome industry organizations, venues and events.


Tag team members on industry fulldome organizations.



Tag staff members on planetariums and fulldome venues.



Tag participants on events.


Improved Mobile Layout
The browsing experience with mobile devices has been improved by adding one a 2-column visualization mode to our responsive web design which nicely fits on small tablet and big smartphone displays.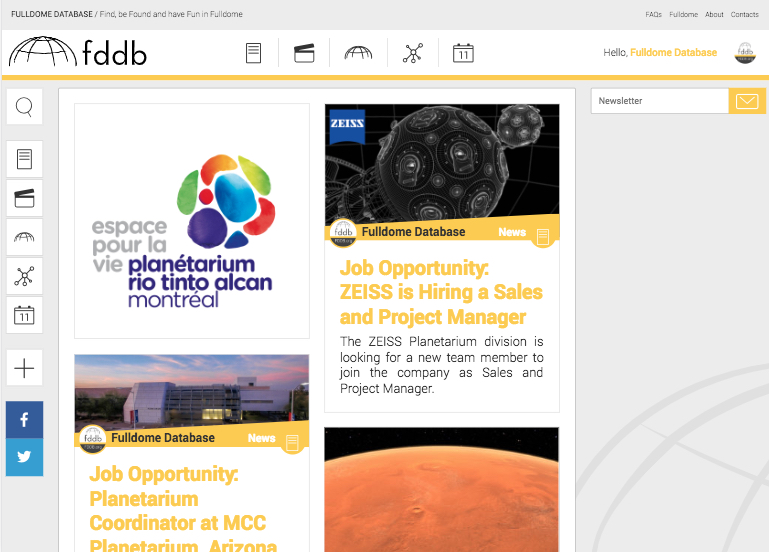 Speed Improvements
FDDB's core engine now better uses both server and browser caching systems, managed by a new custom-developed, fully-integrated technology, improving browsing speed and reducing loading times. We also tweaked our JavaScrpt queries to be much faster and more efficient.
These changes result in a fantastic improvement: FDDB loads in just 1 second, even before switching on our Content Delivery Network!
More Powerful Notification System
We are introducing a more powerful notification system that allows content owners to be notified every time a user interacts with their content: if a new tag is created, the content owner receives an email notification with full information on what the change is about and on who made it. Changes can now be promptly and properly moderated.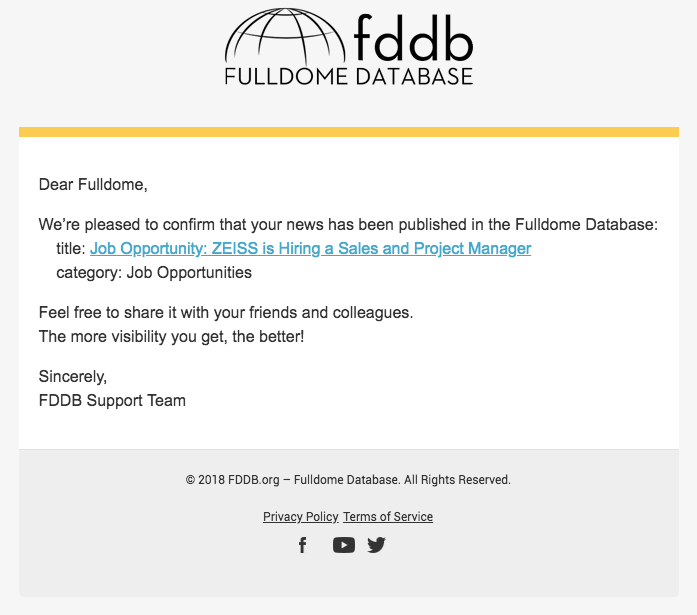 Other release notes
New implementations of...
a new RSS engine to actively deliver our news to subscribers;
a map to display dynamic data in Domes and Events sections;
a better algorithm to check users' password strength;
one more confirmation step before deleting user-generated content from the listing;
a new image upload process to automatically rename files to match optimized SEO's requirements;
a web loader to improve the design of the infinite scrolling layout;
new Facebook Comments API;
We improved...
the sign-up process and the reCAPTCHA functionality;
the management of Favorites and Watch Later lists;
the data verification controls on News, Shows and Organization submissions;
the Reviews algorithm on shows: minimum rate is now 1, not 0; and also restricting users to only one review;
venue card design in the Domes section;
the communication algorithm to share data with Plafinder;
our maintenance page design;
Also...
Domes' short-description fields now populate automatically based on available data;
Added image-alignment feature on News submissions;
Added iframe support on News submissions;
Usernames are now linked to user profiles;
New map-marker icon on Events and Domes sections;
Section headers are now hidden when no data is available;
New meta tags in social networks' share buttons;
Several bug fixes and other improvements
Enjoy the new features and don't hesitate to suggest new ones!
Have you liked this post? Subscribe to FDDB Newsletter
Start the experience!
Not yet registered?
Sign up now, it's free!