Sky-Skan Installs the World's First 10K Digital Planetarium
Canada's northernmost large city, Edmonton, will soon welcome audiences to the sharpest views of the sky and cosmos ever seen in a modern digital planetarium.
TELUS World of Science – Edmonton is upgrading its immense 23-meter Margaret Zeidler Star Theatre to a high-contrast, all-digital Sky-Skan system that will exceed 10K resolution. Renamed the Zeidler Dome, it will have over six times the pixel density of its predecessor, and will be powered by Sky-Skan's advanced DigitalSky – Dark Matter™ simulation and show control system.
Edmonton has always led the way for astronomy popularization and education in Canada," said Alan Nursall, President and CEO at TWOSE. Through our collaboration with Sky-Skan, we are reinvigorating our commitment to offering our guests awe-inspiring presentations of natural wonders on the grandest of scales.
The renovated Zeidler Dome will also feature new surround-sound audio, a nearly seamless new projection dome by Astro Tec, new seating, and a new central performance stage in the area once occupied by an optical-mechanical star projector.
Frank Florian, TWOSE's Director of Planetarium and Space Sciences, plans to use the new technology for a wide range of informative and entertaining programming.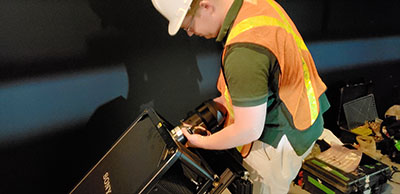 "Canada's planetariums have always been among the most innovative in the world," said Steve Savage, President of Sky-Skan. "A Canadian planetarian played a vital role in the founding of our company, and in the creation of exciting new presentation techniques and visualization technologies for domed theaters, so we are honored to have won such an important commission from the TELUS World of Science – Edmonton. We are pouring everything we have learned from a half-century of practice into this facility."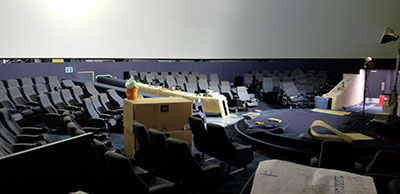 Situated near the geographic center of the province of Alberta, Edmonton is home to Canada's first public planetarium (the Queen Elizabeth Planetarium, opened in 1960), and largest planetarium (the Margaret Zeidler Star Theatre, opened in 1984). Since 1967, Sky-Skan has led the development of technology for planetariums, introducing the world's first widely affordable digital fulldome system in 1998, followed by a string of technology breakthroughs ever since.
The intersection of these pursuits-of-the-superlative will be displayed to the world in June, 2020, when Edmonton welcomes delegates to the International Planetarium Society conference, hosted by TELUS World of Science – Edmonton.
Have you liked this post? Subscribe to FDDB Newsletter
Comments
This is a friendly community,
be nice
Don't be too commercial,
nor spammy
Start the experience!
Not yet registered?
Sign up now, it's free!